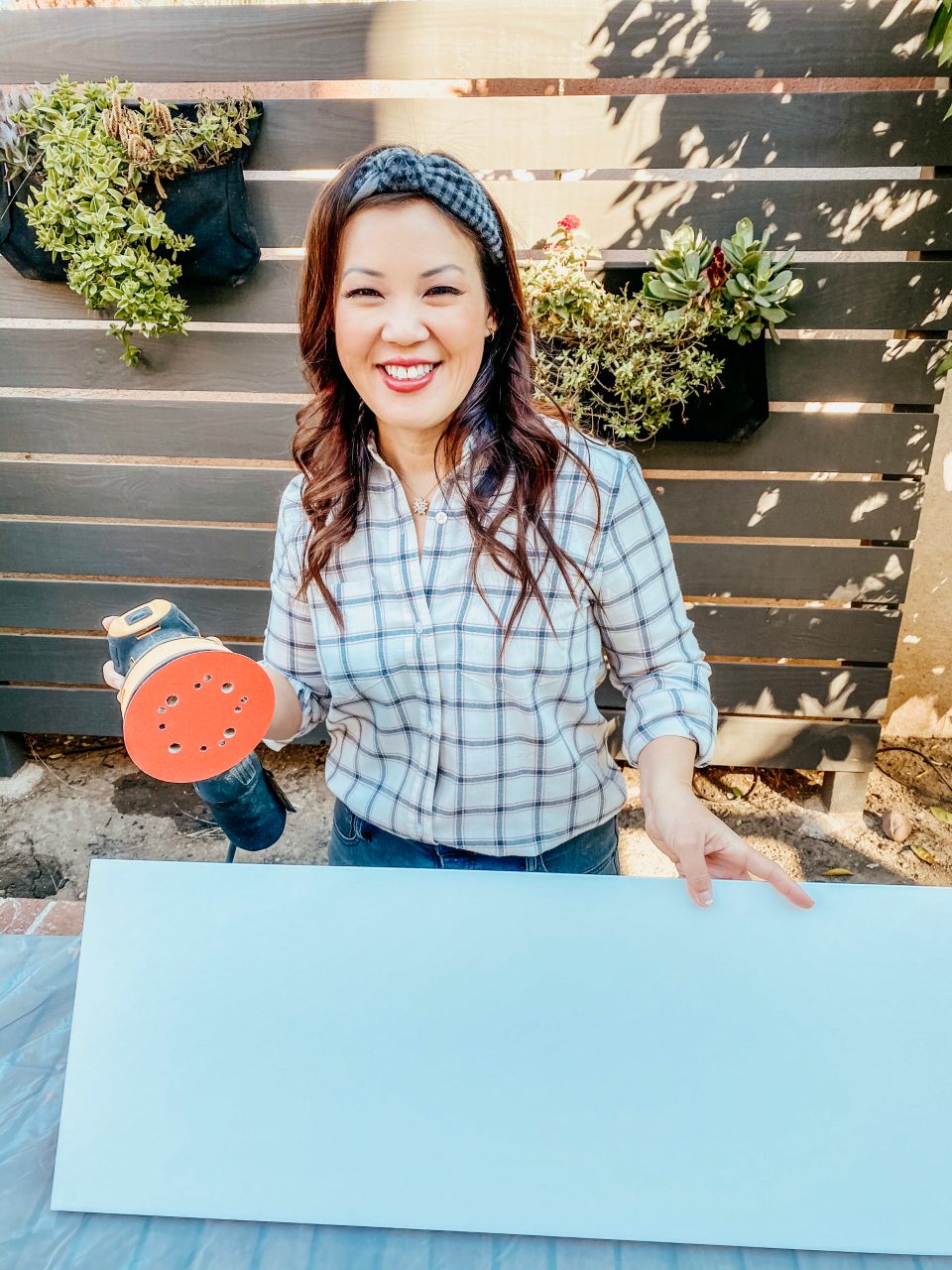 This post is sponsored by Sherwin-Williams®. All opinions are my own.
Okay, let's be honest. I sorta thought we'd be doing this DIY months ago. Of course, our Desert Bathroom has been a test of patience and persistence. Turns out, tiling a whole bathroom is not as easy as the pros in the tile trade make it look. 😂 There's a lot of planning and precision involved, and it's not exactly the kind of thing you can multitask.
But here we are! The final DIY that will really take this bathroom to the next level, without taking our budget along with it—painting our vanity with Sherwin-Williams paint and primer.
Hacks for High-Low Renovations
You guys know I love a high-low renovation. After all, making a few smart DIY decisions means more money in the budget to play with where it can really make a difference. Customizing a basic unit is so satisfying, and opens up a ton of new design possibilities! In the end, you get exactly what you want: a bespoke solution for a fraction of the cost. Paint is one of the easiest ways you can update a basic piece into something more custom.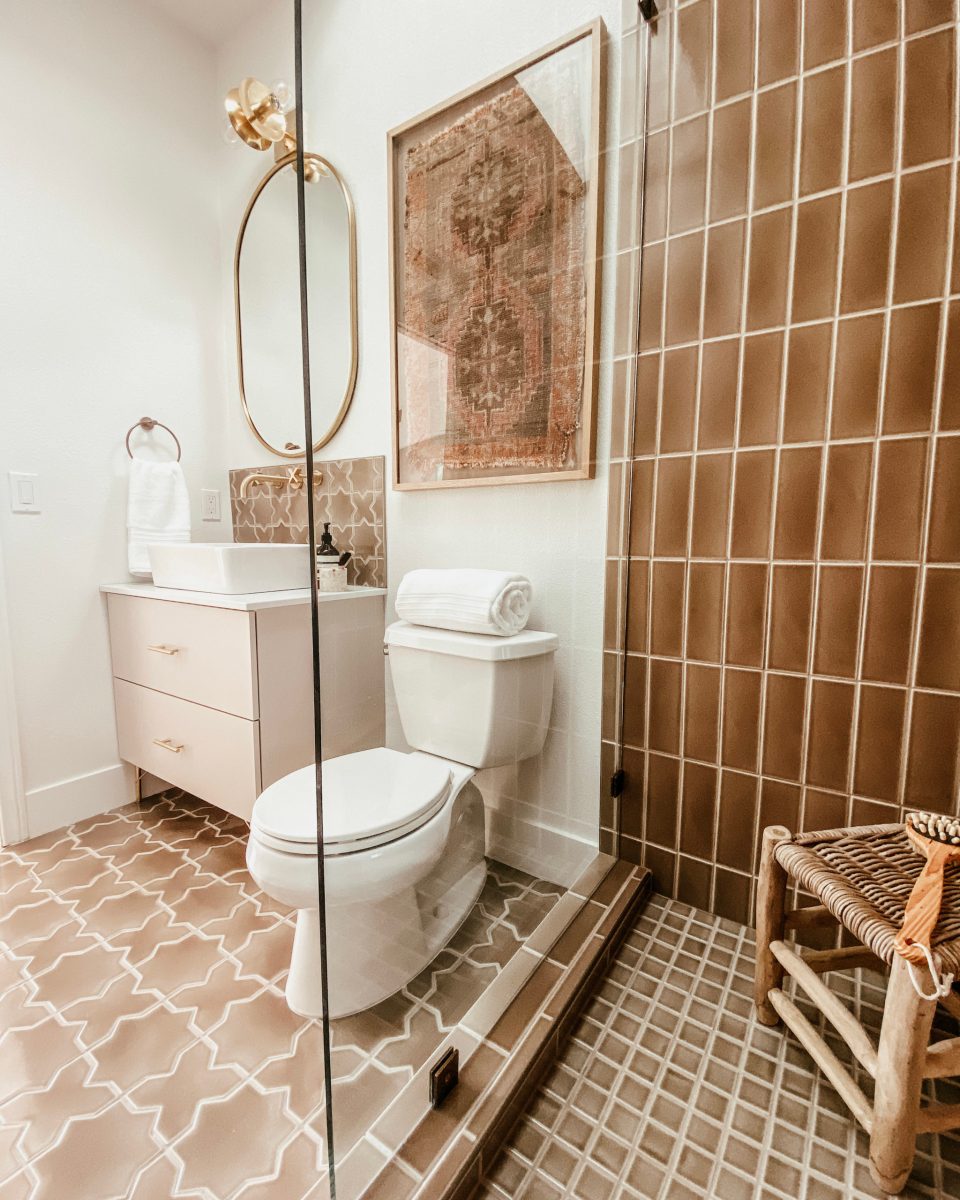 In the Desert Bathroom, I always wanted the tile to steal the show. This is where we really splurged, and I think it's so worth it. The natural monochrome I chose is soothing and serene, totally in-keeping with our desert motif! But to afford the tile, we had to make compromises elsewhere without cheapening the design.
IKEA® has cabinetry options that are so simple, offering the perfect blank canvas to transform these basic building blocks into any aesthetic with a coat of paint. We went with the Godmorgon sink cabinet for a fraction of the cost of a custom hardwood vanity.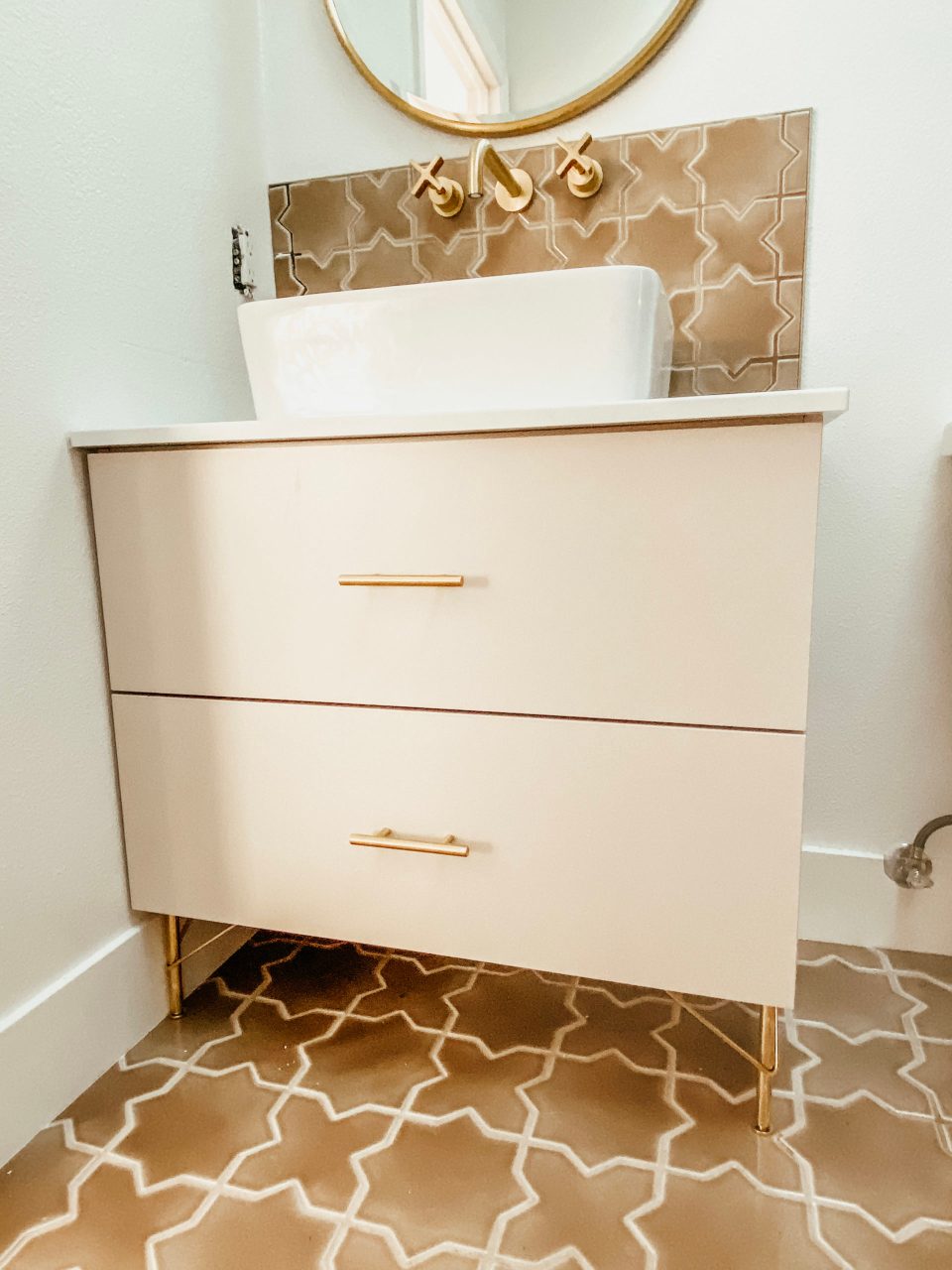 These pieces are made from particleboard and melamine, making them lightweight, hardy, and low-cost. Melamine has a lot of great properties that make it an awesome alternative to hardwood cabinetry—but the surface is so slick that it becomes almost impossible to paint. But thanks to a great primer and paint from Sherwin-Williams, this IKEA hack is super simple!
WAIT! Measure Twice, Paint Once.
Maybe I'm stating the obvious… but before you start painting, make sure you've measured the IKEA cabinet to confirm it will work for your project!
I originally had a different style of vanity in mind with doors instead of drawers that I was going to add a tambor texture to—but the piece was too narrow for our sink, and the plumbing wouldn't have given us a lot of room to store things underneath. I'm so happy Travis double-checked before I plowed forward with the paint!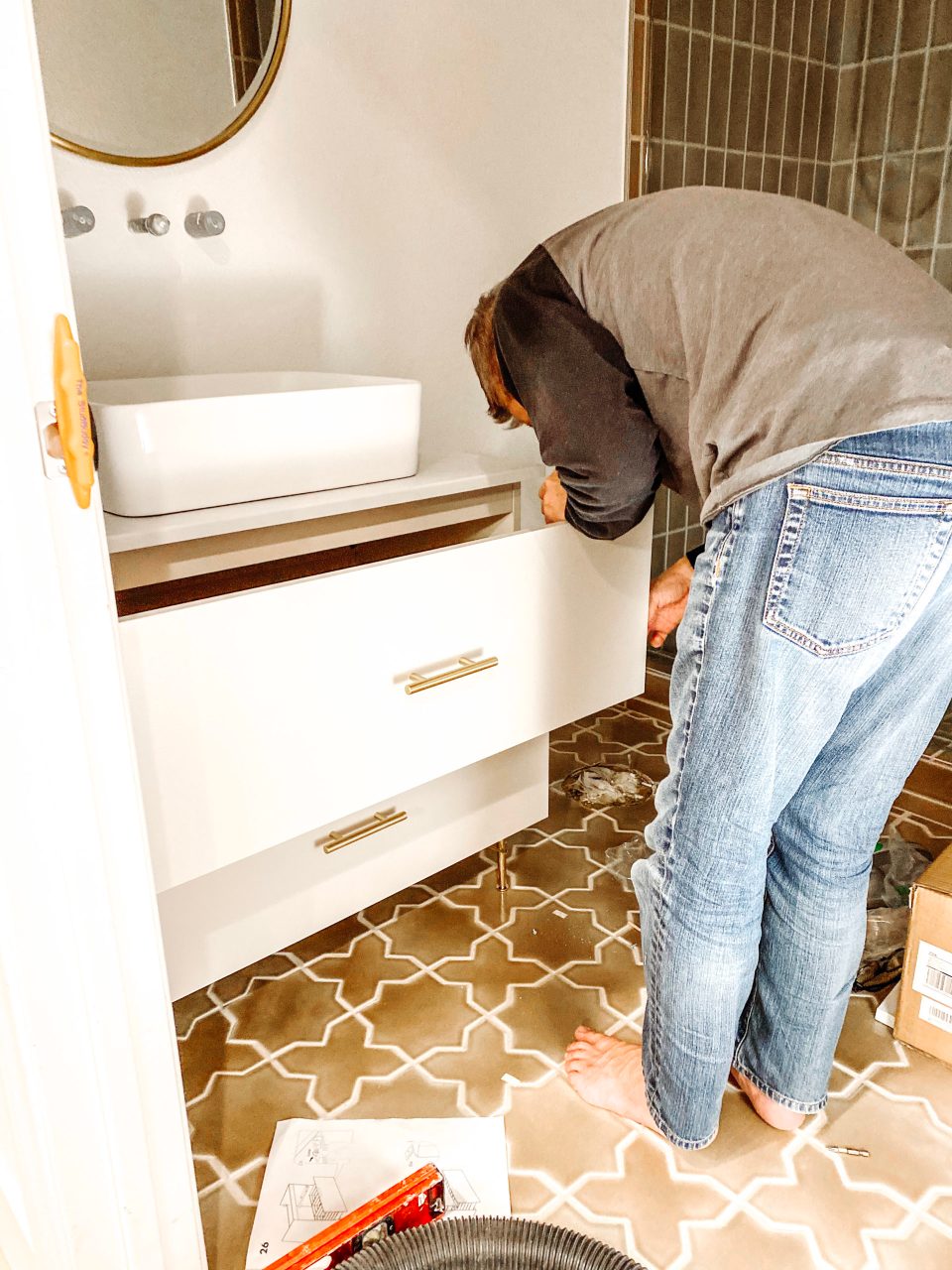 How To Paint Melamine Cabinets
STEP 1
First things first, we have to clean the cabinet with water and dish soap to wash off any grease or oils that may have built up. Then, rinse the cabinet and allow time to thoroughly dry.
STEP 2
Next, we have to sand down the melamine. This gives the surface a little grain, where before it had none, helping the primer bond to the melamine's slippery surface. Using a medium grit sandpaper, I sanded the drawer fronts and the cabinet sides. Definitely do this BEFORE assembling, it's way easier! Make sure to wipe dust off with a damp rag and clean water prior to priming.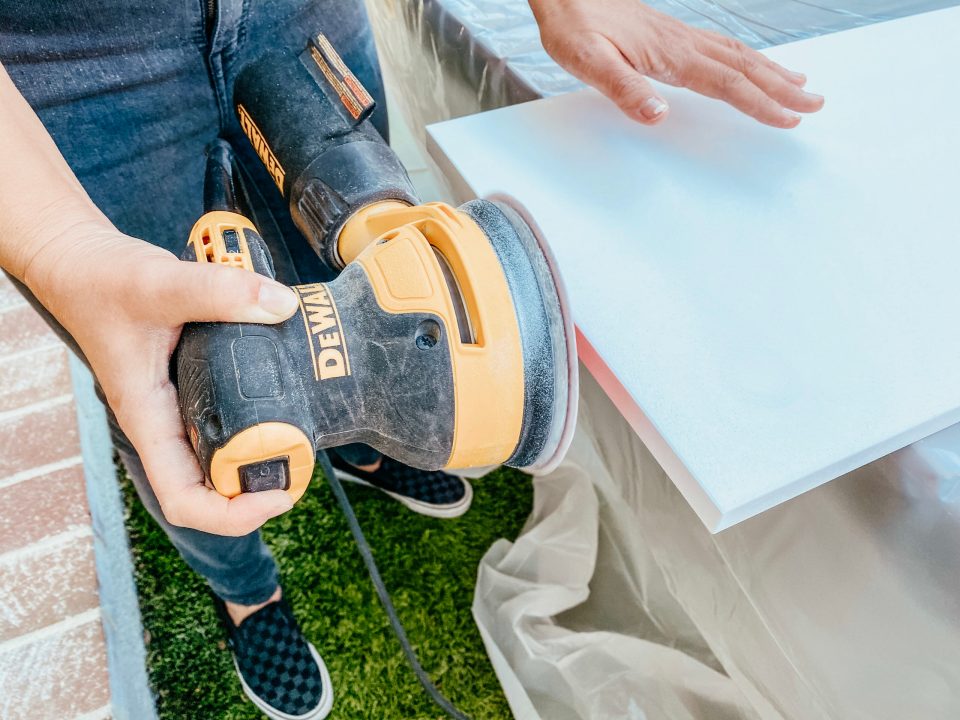 STEP 3
Once the exposed surfaces are all roughed-up, we can prepare the surface with primer. For glossy, hard-to-stick surfaces like melamine, Sherwin-Williams Extreme Bond Primer is exactly what we need—it even works on glass and tile! Their bonding formula creates a surface that our topcoat will stick to. It doesn't need to be perfect, but whatever you do, DON'T skip this step!
STEP 4
Once our primer has had 24 hours to dry, we're ready to paint! I used Sherwin-Williams Emerald Urethane Trim Enamel in Popular Gray SW 6071 with a semi-gloss sheen. This paint type is the best for cabinets since it's water-based and withstands the wear-and-tear of frequently cleaned spaces, like kitchens and bathrooms.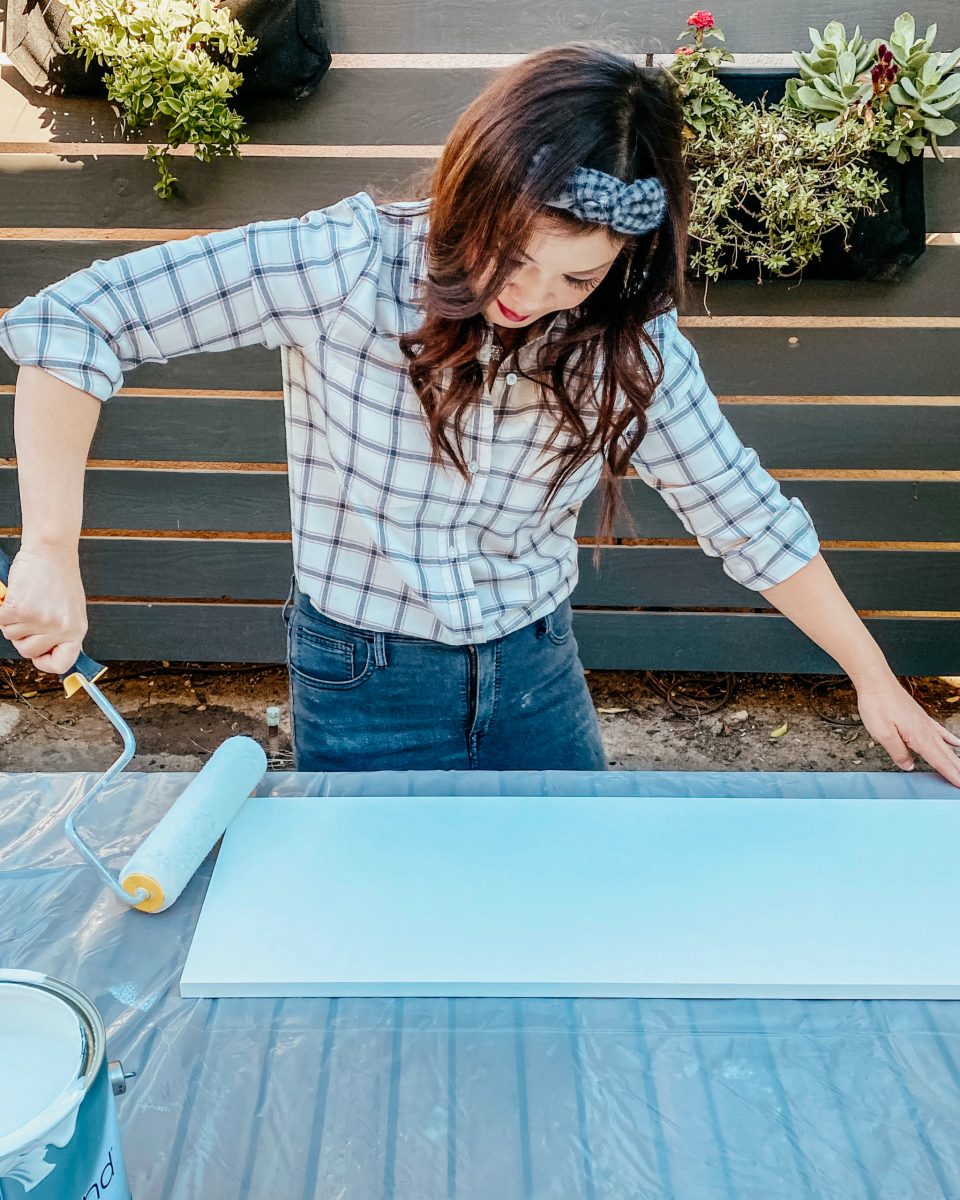 We used the same paint and color on our Murphy bed, and it's held up beautifully. If you need product or color suggestions, head to your neighborhood Sherwin-Williams store and they can help! They're also doing online ordering and curbside pickup for a contactless experience!
For best results, paint two coats using a high-density foam roller to avoid visible brush strokes—or you can do what the cabinet trade does and spray paint! We did this last summer when we built our DIY shaker style bench, and rented a pro-grade paint sprayer for the project. It's a LOT more work, but you'll have no brush strokes, guaranteed.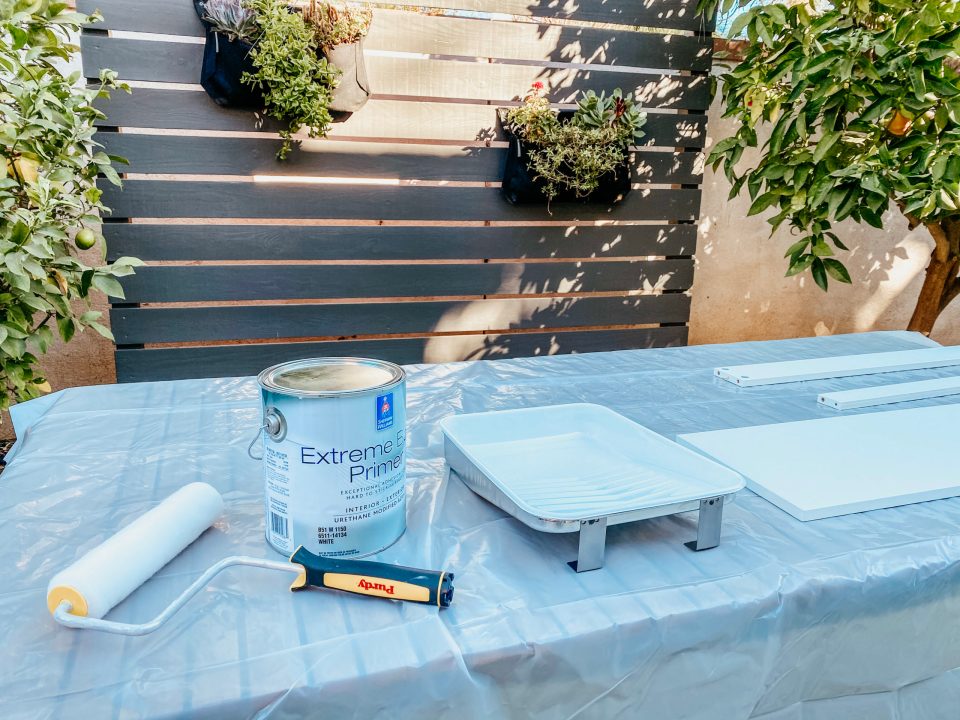 Tips for Painting IKEA Cabinets
The paint should be TOTALLY dry before you start to assemble the cabinet. It's not too tough, but the sliding drawers can take a little more effort than your traditional IKEA frame. I've found Youtube can be really helpful if you get stuck in the build!
Once the cabinet is built, it's an easy enough job to add the counter, and really cuts down the price of your finished project. We got the IKEA faux marble countertop, and I am way more pleased than I ever thought I would be. It's a great look, and doesn't look fake! Travis made a hole for plumbing, and we purchased an affordable vessel sink from Amazon to match.
We also added some beautiful brass legs and drawer pulls to our vanity, which elevate it even more! I love the simplicity of these minimalist lines, which have just the right amount of bling. They perfectly match the sleek brass fixtures and mirror I picked out for our vessel sink.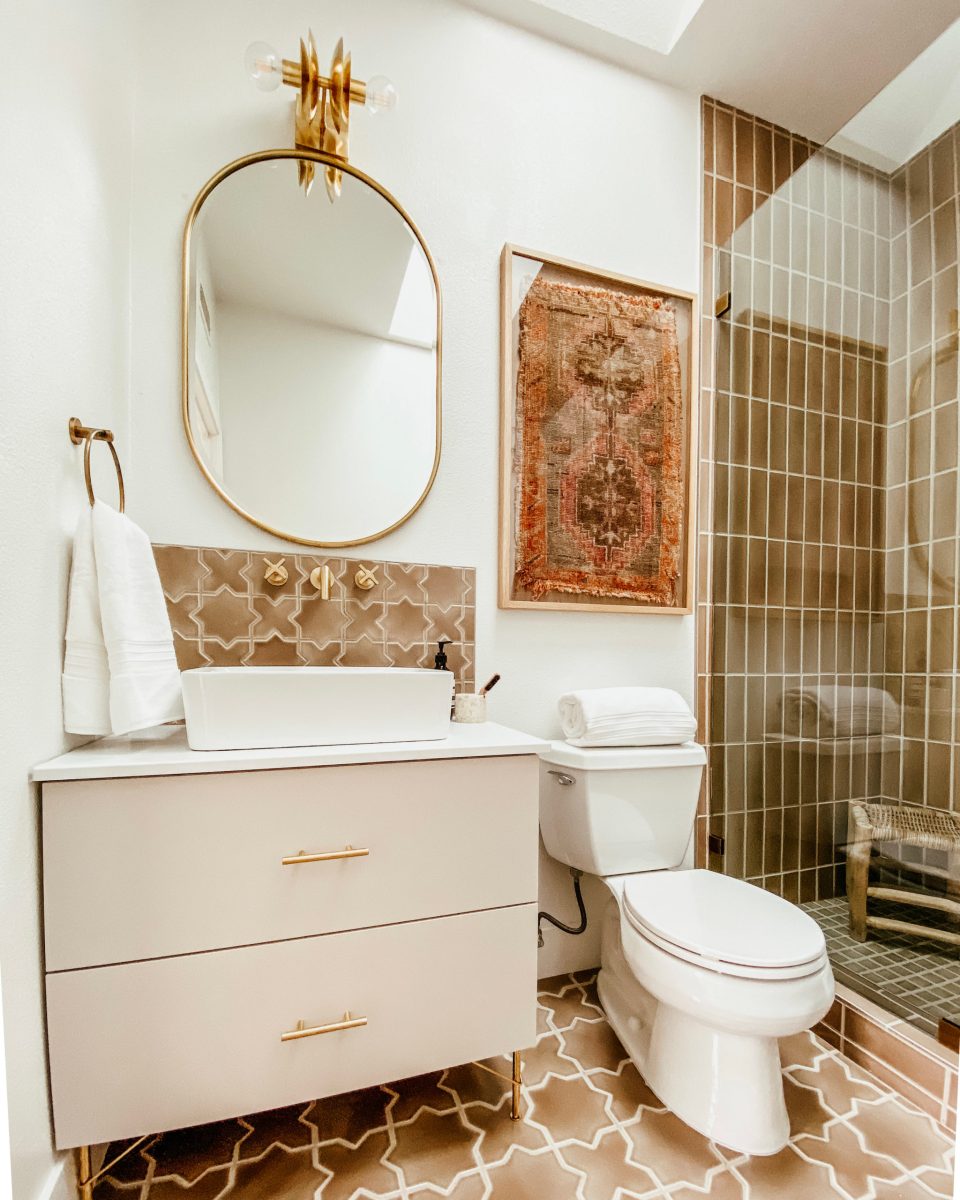 Actually, the vessel sink was something I waffled on when I was still dreaming up the design, but I'm so glad we went for it. I was originally worried this design feature feels a little dated, and I wouldn't really recommend it for a high-traffic space. But after visiting The JTH Posada in Arizona last summer, I was so inspired by the bathrooms there! They made me realize that the vessel sink is a desert staple: obviously I had to have one in our Desert Bathroom. 😉
By taking the vanity into our own hands, I was able to splurge where I wanted. We finished the look with a faucet from Rejuvenation, which was on the expensive side—but so worth it! Knowing where you want to invest your effort vs. your income is the essential trade off of high-low design. And it paid off big time for this bespoke vanity!
Happy day!
Anita
Product names, logos, brands and other trademarks are the property of their respective trademark holders.