If there is any way to exude my excitement through the computer or mobile phone screen to you, you'd fall on the floor because of my over the top excited, loud gesticulating arms and exuberant jumping up and down!
This DIY Murphy Bed project took 21 days. Yes. 2-1. Thankfully with the slower pace of life recently, we could work through DIY hiccups without the busy distractions of parent and work life.
The Desert Den has SO many multifunctional layers that deepen a variety of relational connections that today I'll only touch upon the DIY Murphy Bed area first. This room believe it or not has so many more phases to go through!
DIY Murphy Bed Build
Let's get to the real meat of this project. The build was a very daunting idea for us. We have painted, installed board and batten, beadboard, and played with electrical and plumbing. But never did I imagine we could build!!
What a stressful and exciting idea it was!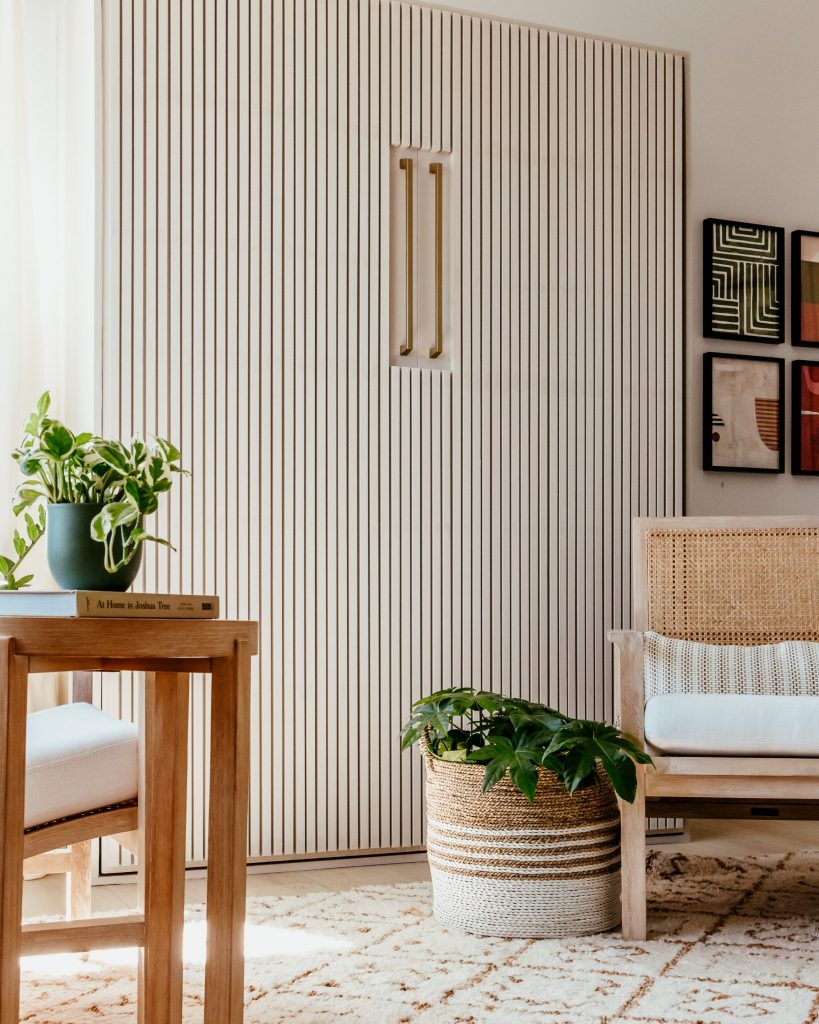 I'm the queen of semi-homemade. Whether it's a recipe or DIY, I hate re-inventing the wheel. After a ridiculously (but oh so necessary) amount of research, we decided to buy a DIY murphy bed kit for the actual bed. There just didn't seem like a valid reason to not buy it. Yes, $329 is a good chunk of change, it is still better than thousands of dollars.

And one thing is FOR SURE! We seriously considered money versus time. After discussing it with Travis, the cost-benefit analysis proved to us that it wasn't necessary to make the bed mechanics.
We got this one from Rockler and it was perfect! Everything we needed was all taken care of in this kit.
There are quite a few variations so read through each one carefully. It can get confusing.
We opted for the I-Semble Vertical-Mount Murphy Bed Hardware Kits with Mattress Platforms kit. I didn't feel we needed a bed frame. This one comes with wood slats for mattress support but no sides to hold the mattress in. There are ones that get very fancy in the deluxe tier. Then others that only come with the piston parts and no mattress support. Initially, we ordered the wrong kit. I'm hoping through my experience, you can read everything clearly so you only have to order it once!
Here is the room before we got the new flooring. It made quite a presence on IG when I first began posting.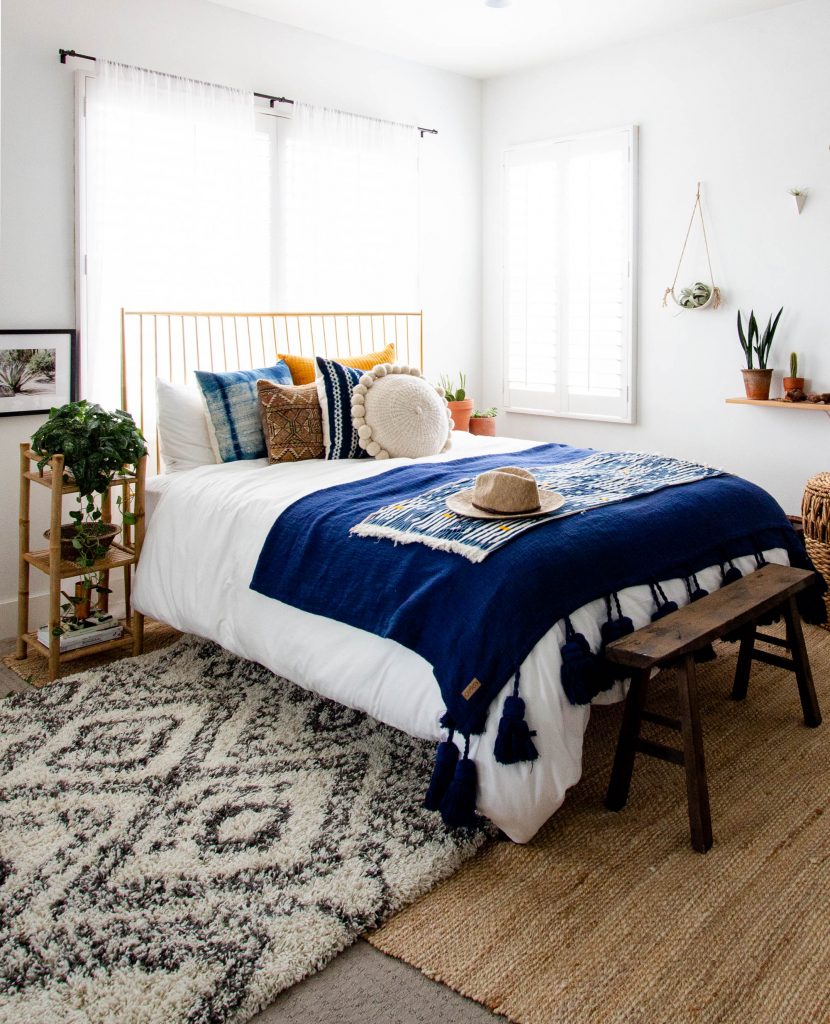 As creative and full of vibrant textiles and color it was, the carpet still showed and the prime real estate the bed took up was clearly making this guest bedroom inept for our family lifestyle upstairs.
We needed a hang out room upstairs! You feel me?
Building the Frame
Once we got the kit, we used their plans to built out the murphy bed frame.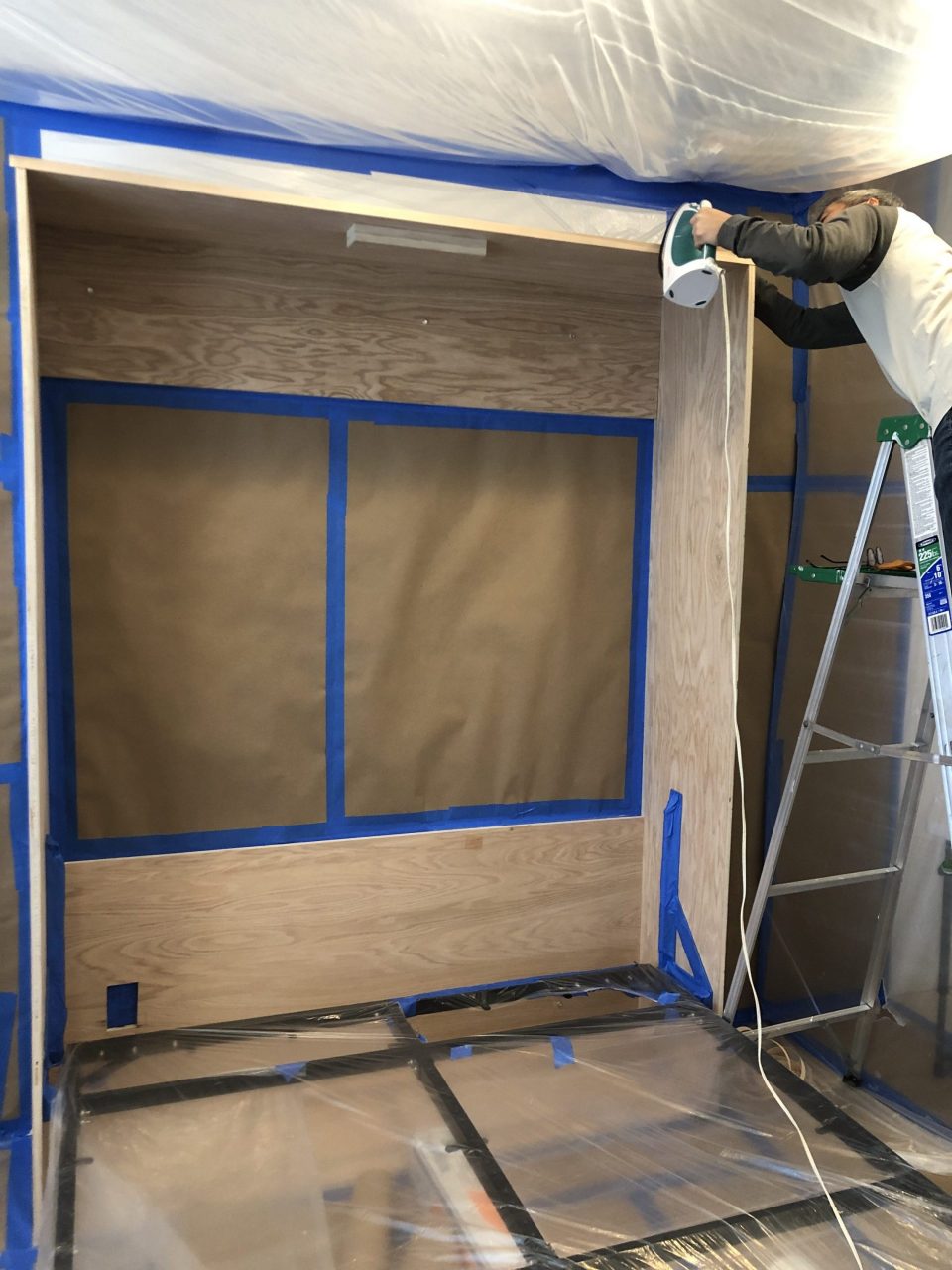 After we got the frame up, we ironed on edge banding so that the edges looked finished. It's still so odd to me that we can iron on something to wood!
I'm really proud of Trav and I. To think two licensed Marriage and Family therapists have turned into full-time DIY-ers and still married is a huge feat! Ha! And you think I'm joking! *wink*
I have to admit, we really do make a magical team. Yin and Yang!
Paint Sprayer Chronicles
Using a semi-pro paint sprayer was quite an adventure! I was pretty naive to think it would be easier than perfecting paintbrush skills.
I have mad respect for the paint trade that I work with for my client projects. They can cut paint lines like no one's business all with a quick wrist technique.
That is why I decided to do a paint sprayer. More importantly, cabinetry paint is ALWAYS best to spray paint. The sheen and no paint strokes and even professional coverage make it look so PRO.
Have you ever painted over wood even after primer? It's def not the same as wood sprayed on. That is why doors and cabinetry are 100% recommended to spray paint.
Anyhow, due to the high temps that weekend, we got drips and spills and such all over the cabinet base. My sister always quips at me when I'm complaining something isn't working with" Well, usually it's due to USER ERROR" My first reaction is always uh…NO, girl. Then 30 seconds later, I think about it and I'm like, OK, mayyyyybe.
In this case, I would say it's 65% user error and the rest is some difficulty of learning the paint sprayer and the high temps that weekend. But also the primer could have played a part in it!
I used a great primer but I think it was WAY too thick. The biggest thing I learned from this is that when you lay primer on too thick, the paint literally will slough off. It has nothing to grab on. Who knew??? One of my paint trade told me that after I called him to complain and ask for advice.
And the plastic tarp was probably creating a vacuum effect and made it hard for the paint to dry. So literally 24 hours the paint still wasn't dry even though it was 90 degrees outside!
Even after tons and tons of Youtube video tutorials, at the end of the day, there is a steep learning curve of spray paint technique. I kept turning my wrist and the paint was fanning out and that leads to uneven coverage. I could go on and on.
This whole blog post could easily turn into a paint sprayer 101 so I'll stop here and prep for that post soon! I'll also delve into my paint choices and final decision in a comprehensive post as well.
There seriously is SO much to share!
For now, let's just enjoy the Desert Den in all its multi-functional glory!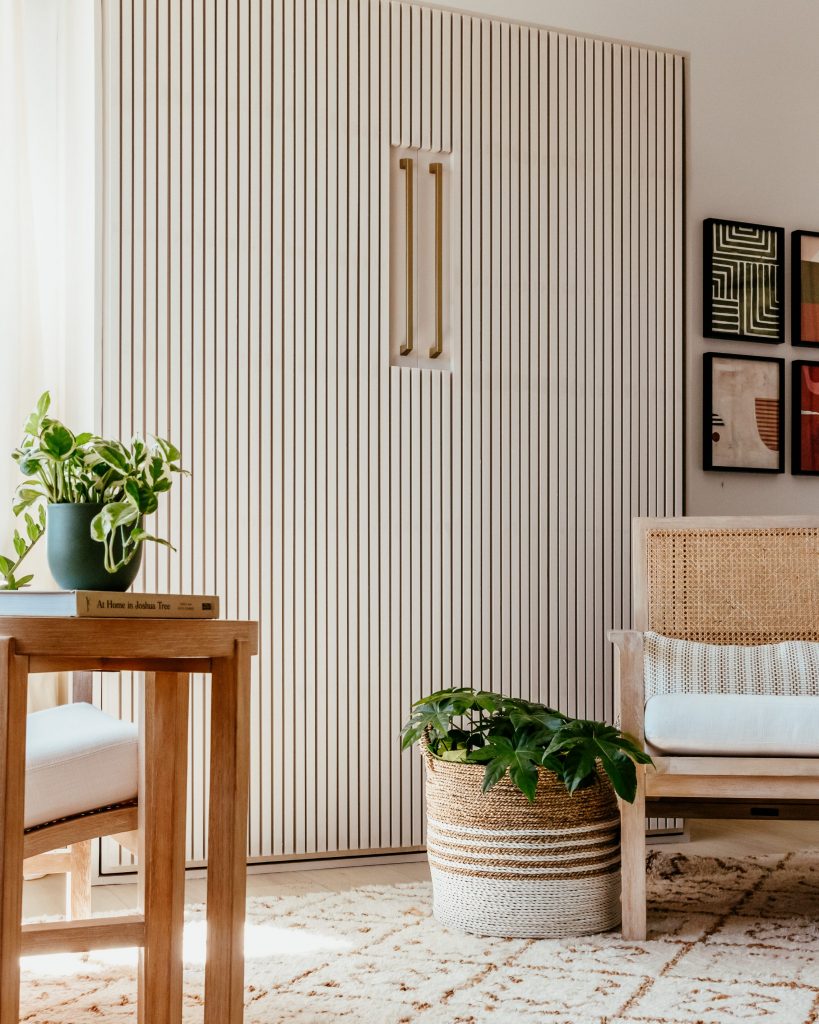 I'm still pinching myself! We actually did it! We built this by ourselves, guys!
I'm feeling so empowered by it all.
Serena and Lily Desert Rug and Chairs
Adding in delicious Desert textiles was really important for me. I didn't want to stray from the Desert theme because I love the Desert too much to change the room's theme.
Cue Serena and Lily. Most of the time, we all have the impression that Serena and Lily have stunning beachy, coastal furniture, and decor. And they do!
What I have found is that so much of their decor and furniture lends deep into a Desert vibe as well. Just take a look at my friends' The Joshua Tree House Posada outdoor space with Serena and Lily's beautiful rattan furniture.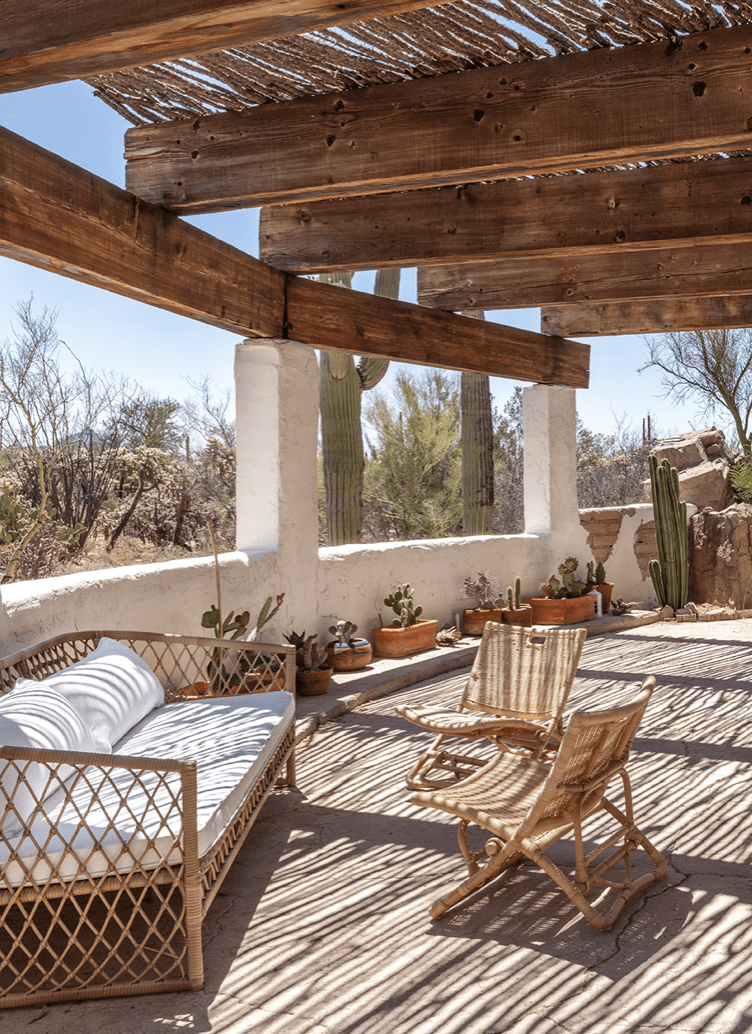 It's even more stunning in person! This was proof to me as a designer that Serena and Lily's outdoor furniture design and high endurance fabrics were the ticket for my Desert Den.

After all, we anticipate LOTS of kids and movie nights filled with snacks and drinks in here. So the outdoor chairs which look stunning here as indoor chairs are perfect!
Plus, the cozy shag morrocan rug by Serena and Lily really the nail the Desert look doesn't it?
Snack Hutch
Did you know the DIY Murphy Bed is just phase 1? There are at least 3 more major projects in here! Besides building out the right side of the Murphy bed for a nightstand cabinet and skinny linen closet.
I also wanted a fun snack hut/wet bar area. We opted to not have a sink but we do have a Zephyr beverage fridge! The girls immediately started stocking their favorite drinks, fruit, and snacks in here.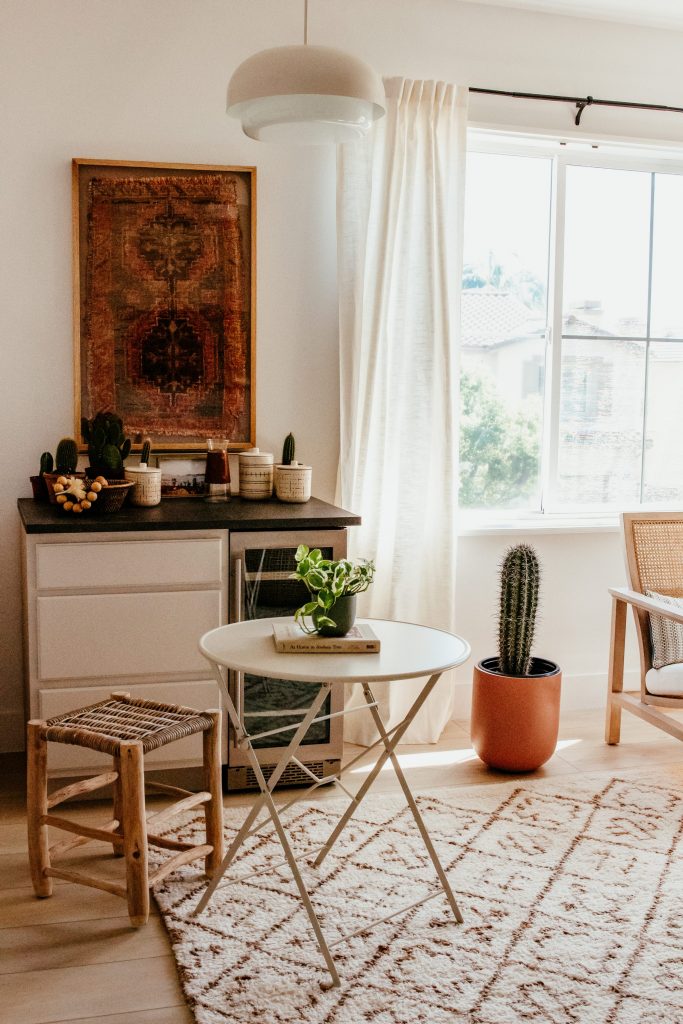 Isn't it cool? A small bistro table and the Schoolhouse pendant is the perfect design cue for everyone to enjoy while watching a movie or hanging together. (I can't call getting together play dates anymore otherwise I get the biggest groans, eye-rolling and MOOOOOOOM! from my oldest two daughters.)
Welp, that is it for now! So much more to come and show you guys!!